The two stamps below were issued at the end of World War II by the revolutionary government of Indonesia. They were printed by the Staatsdruckerei in Vienna. They are not listed by the Scott catalog, but Michel does list them.
The first stamp was issued in 1948 or 1949. The design features a map of Indonesia with ships representing blockade runners streaming toward the Republic of Indonesia. The same stamp with an overprint was issued in 1949.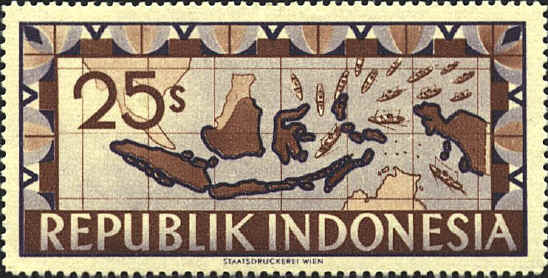 The second stamp was issued by the de facto government of the Republic of Indonesia in December 1948.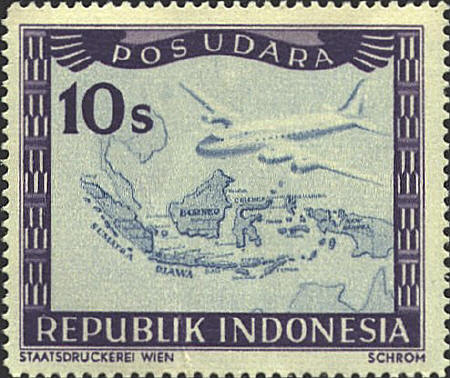 For those who are interested in these stamps, there is a catalog with pictures of all "Vienna" issues at http://www.vanstamp.com/catalogs/indonesia_vienna_issue.pdf.
West Irian (Irian Barat)
Irian Barat is the western half of the island of New Guinea. The Dutch retained it when the rest of Indonesia became independant in 1949. It was placed under United Nations administration in 1962 and transferred to Indonesia in 1963. The stamps were issued in 1963 in two values, Rupiahs 0,12 and 0,17, showing the "Indonesian Flag from Sabang to Merauke."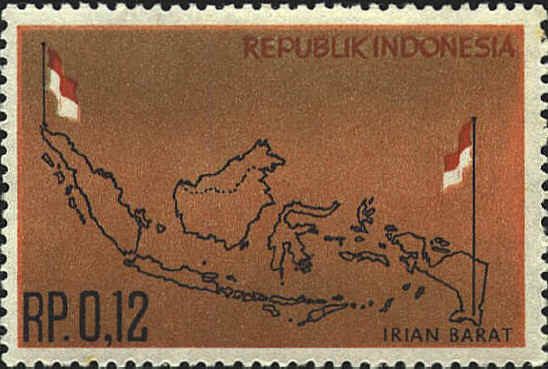 Macao
Macao is across the bay West of Hong Kong. It was colonized by the Portuguese in the 16th century and reverted to China in 1999. The map on the stamps has an old-stylle compass rose which might inidcate that is tis from an old chart. On the 1 AVO stamp the latitude and longitude are indicated in very light print, 22°10'N 113°35'E.