Wild Bill Hickok
James Butler Hickok was born in 1837. The first time he was officially referred to as "William" was at Rock Creek Station in Nebraska Territory where he worked for a freight company. He fought in the Civil War and was a lawman in many places in Nebraska and Kansas. Hickok came to Deadwood, South Dakota to take part in the gold rush of 1876. On August 2 1876. Hickok was playing cards with group of friends in Deadwood's "Number 10" Saloon. He was unable to sit with his back against the wall as he usually did, and when Jack McCall came in he shot Hickok in the back of the head, killing him instantly. At the time of his death Hickok was holding black aces and eights with the fifth card, the Jack of Diamonds. For ever after this hand would be known as "The Dead Man's Hand".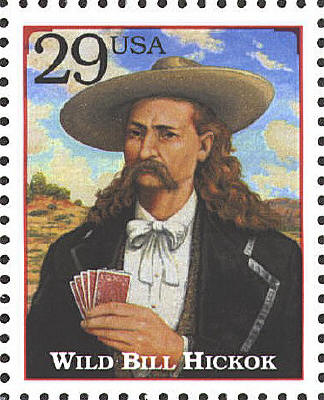 Buffalo Bill Cody
William F. Cody, known as Buffalo Bill, was a friend of Hickok, and Wild Bill participated briefly in Cody's wild west shows. Buffalo Bill was a visitor to the Black Hills and especially to Deadwood over the years, so we include a stamp with his picture. In 1891 he was a scout for General Nelson A. Miles in the last hostilities with the Indians in South Dakota.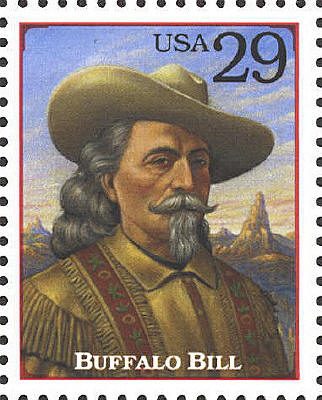 Mark Twain
Mark Twain stopped by The Deadwood Pioneer newspaper office on June 25, 1877. He talked with fellow journalists but he never included Deadwood in his stories. Mark Twain is the pen name of Samuel Langhorne Clemens. In 1861 he accompanied his older brother Orion on his assignment as the Secretary for the Territory of Nevada.