South Africa issued this stamp showing South Africa and Antarctica in 1959, two years before the Treaty, to mark to commemorate the South African National Antarctic Expedition (SANAE). One of the original signatories to the Antarctic Treaty South Africa has occupied bases all year long on the Fimbul Coastal Ice Shelf of Western Queen Maud Land since 1960.
This stamp was issued in 1991 to mark the 30th anniversary of the signing of the Treaty. On both stamps the line connects South Africa with the location of its Antarctic base.
The map shows Soviet stations on the Antarctic continent. It marks ten years of Soviet explorations in Antarctica.
In 1985 the Sea Explorers of Korea (Boy Scouts) challenged the Vinson Massif, the highest peak in the Antarctic and reached its summit for the first time as Koreans. With the expedition of the Antarctic by SEK officers, Korea gained the 33rd membership in the Antarctic Treaty one year later, and constructed the King Sejong Station, Korea's Antarctic Research Station three years later (in 1988).
The stamp was issued in 1987 to mark the first Anniversary of South Korea's signing the Antarctic Treaty.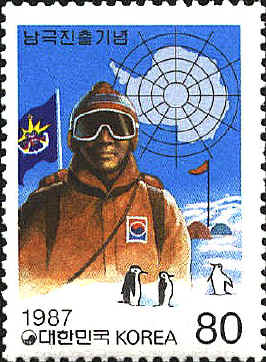 This stamp was issued to mark the 30th anniversary of the Antarctic Treaty. It maps the thickness of the ice sheet that covers the Antarctic continent.