Callao ~ 1746
Callao was founded by Francisco Pizarro in 1537. It was the main shipping point for silver and gold taken from the Incas by the conquistadors. The stamp shows a plan of the city as it was just before the earthquake of 1746. On the wall surrounding the city there were thirteen bastions, eight on the land side, and five on the side facing the sea. They were named beginning in the lower left-hand corner and reading clockwise: San Miguel, San Ignacio, Santa Cruz, Santa Catarina, Santiago, San Juan, Santo Domingo, San Felipe, San Luiz, San Lorenzo, San Francisco, San Pedro, and San Antonio. The buildings in the center of the city were cathedrals, whose names were from left to right, La Mercea, San Francisco, Santo Domingo, Matriz, and San Augustino. The viceroy's palace is just below San Augustino. The city of Callao was destroyed by an earthquake and tidal wave in 1746.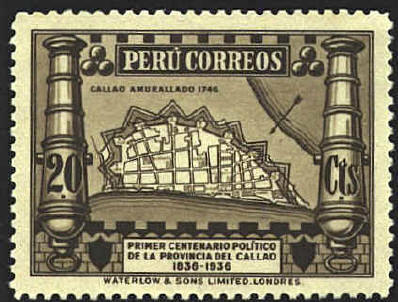 The Fortress of King Philip
The stone fortress was built facing the Pacific Ocean between the years 1747 and 1766 by the Spanish to defend the colony from pirates. It was designed by the architect Luis Gaudin and finished by the Viceroy Amat in 1773. It was named in honor of the first Bourbon king of Spain. It was built in a pentagonal shape with five bastions.
The Amazon Basin
The stamp was issued in honor of the state visit of General Ernesto Geisel, President of Brazil in 1976. The map shows the Amazon basin. The dotted line represents the border between Peru and Bazil. The area between the two dotted lines North of the Amazon River indicates Colombian territory. Three rivers flow into the Amazon, from the left, the Maranon, the Huallaga, and the Ucayli. Three towns or cities on the Amazon are also marked, from the left, Iquitos, Peru, ?, and Tabatinga, Brazil.