Russian Lighthouses
In 2005 Russia issued three stamps picturing lighthouses on the Barents Sea, an arm of the Arctic Ocean at the northwestern corner of the Asian continent.
The low value commemorates Mudyugsky, the traditional landfall light for Arkangelsk. It is the oldest lighthouse in Russia, dating from 1838. It is located at the eastern entrance to the Dvina delta on the island of Mudyugsky. The tower is 131 feet in height.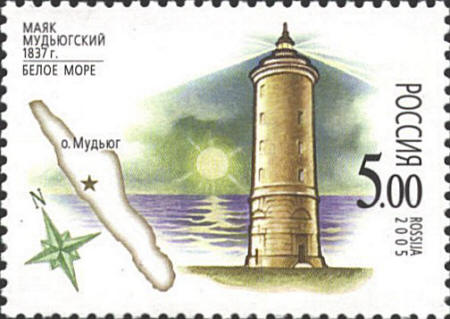 The middle value pictures an Orthodox Church associated with the Solovetsky Monastery which was founded in the 1480 with a light mounted on the top of its onion dome in 1863. The church is at the top of Mt. Sekirnaya on the northwestern corner of Solovetsky Island. It is 322 feet high.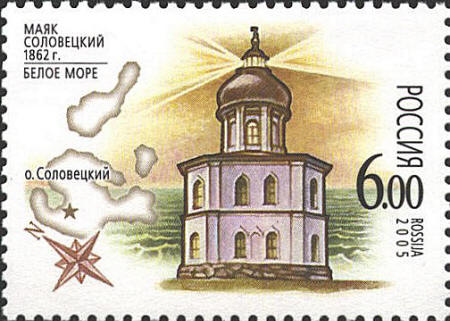 The high value of the set shows the Svyatonossky Island light. It is 308 feet high and is located on an promontory that projects into the White Sea at Svyatoy Nos about 40 miles west of the entrance to the White Sea.