St. John's Point
The four stamps issued in 1998 are the first issue by Great Britain to incorporate the date of issue in microprinting. The text is "1998©" in the lower right corner of the first stamp where the arrow points. These figures appear on all four stamps in the same location.
The 20p stamp shows the lighthouse at St. John's Point, County Down, Northern Ireland, which was established in 1844. St. Johnís Point is at the end of a narrow peninsula which juts into Donegal Bay, south of the village of Inver. The colours of the lighthouse were changed to black and yellow in 1954. The stamp shows a contemporary* chart in the background. The band at the foot of the stamp shows the lighting characteristics - 'group quick flashing x 2'.
The Smalls
The 26p stamp shows the lighthouse at The Smalls, Pembrokeshire, Wales. The current tower was built in 1859 by James Douglass and was automated in the 1980s. The chart is dated 1988. The light is 'group flashing x 3'.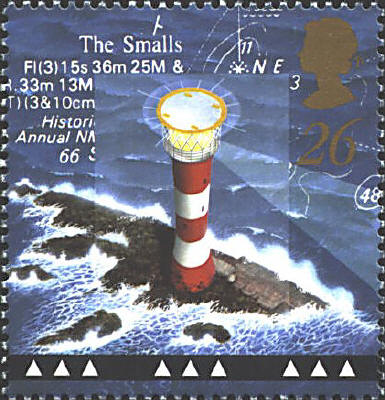 Needles Rock
The famous Needles Rocks lighthouse on the Isle of Wight on England's south coast is shown on the 37p stamp. The Isle of Wight guards the approach to the famous port of Southampton, from where many trans-atlantic voyages started.} This lighthouse was also built in 1859, by James Walker and the stamp shows it as it was at the turn of the century. The chart dates from 1908 and the light is 'single occulting'.
Bell or Inchcape Rock
On the 43p stamp is the lighthouse on Bell Rock (or Inchcape Rock) 11 miles south-east of Arbroath, Scotland. It was built in 1911 by Robert Stevenson (ancestor of poet Robert Louis Stevenson), and marks a dangerous reef. The tower is the oldest rock lighthouse still in operation in Britain and is shown as it appeared in the mid-19th century. The chart is dated 1842 and the light is 'alternating white and red'.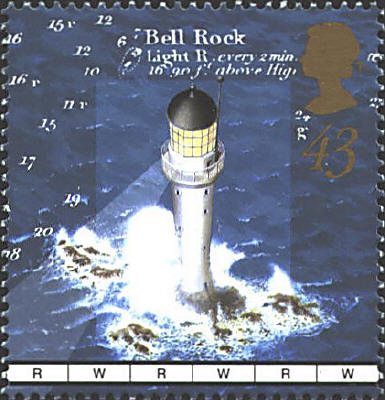 Eddystone Light
The 63p stamp features Henry Winstanley's original Eddystone Lighthouse, off Plymouth, Devon as it looked when first lit in 1698. The chart is from the mid-18th century, and the light's character is 'fixed steady light.'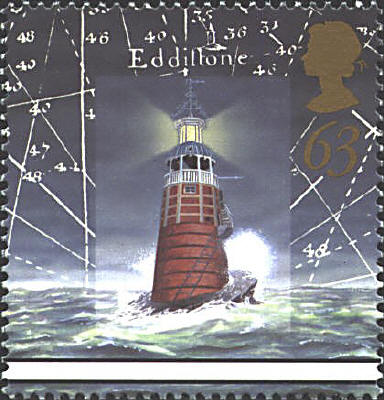 Information from:
http://www.geocities.com/Heartland/Estates/3337/light.html