Goodwin
In 1830 it was agreed that the public lands of Alderney should be divided among the families who lived there. Four lots were left over and they were to be held until the 1831 census was taken "to give time for those who may have been omitted to come forward." Left overs were to be at the disposal of the Crown.
Someone was to be named as surveyor and "a book should be kept to be deposited in the Greffe Office to be referred to in future". The stamp shows a map by "Goodwin Land Surveyor" made in 1831 which seems to show the assignment of the lands.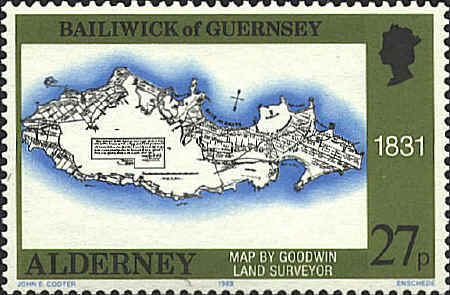 Edmund Hickeringill
Edmund Hickeringill (1631-1705) published Jamaica Viewed in London in 1661. He was ordained by the Bishop of Lincoln in the same year. The Oxford English Dictionary identifies the earliest use in English of the verbal form of the word barbeque" in Jamaica Viewed. Hickeringill was convicted of forgery in 1707. The map which was included in the book was by Col. Edward D'Oyley, governor of Jamaica.