Madonna with the Siskin ~ 1506
Mary receives a lily of the valley from St. John while her right hand rests on the Old Testament. A siskin sits on the Infant's left arm and points his beak toward the child's head where the crown of thorns will be one day. Jesus smiles at his cousin, St. John, below him. A little angel hold out the cross staff to John. A piece of paper with the painter's signature in Latin (Albertus durer germanus faciebat post virginis partum 1506) lies on the wooden bench in the foreground. In 1892 the wood panel was acquired for the Staatliche Museen in Berlin.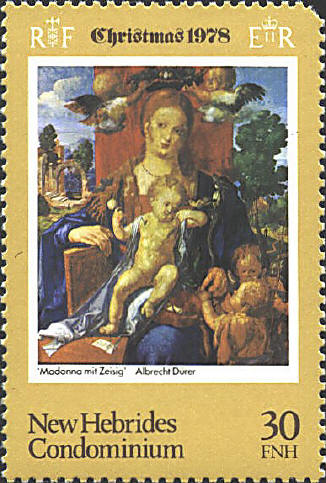 Madonna and Child ~ about 1498
The painting, oil on wood, was commissioned by the Haller von Hallerstein family. There is another painting on the back of the panel. The Child hold his apple in the same position as in Dürer's engraving of Adam and Eve, hiding the stolen fruit behind his back. The picture is oil on wood and is in the National Galley of Art in Washington, D.C.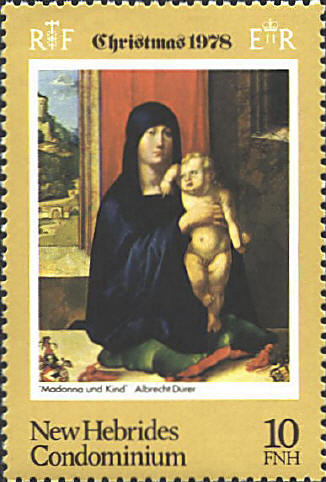 St. Anne with the Virgin and Child ~ 1519
Painted in oil and tempera on canvas the painting was commissioned by Leonhard Tucher. In 1910 it was acquired by Benjamine Altmann who donated it to the Metropolitan Museum of Art in New York in 1913. The model for St. Anne was Dürer's wife, Agnes, who wears the costume of a Nuremberg citizen. Mary holds her hands together in silent prayer over her son. The two women seem to understand the fate that awaits him.