Squirrel and Acorn ~ 1512
This stamp is attributed to Dürer but it is, in fact, by Hans Hoffman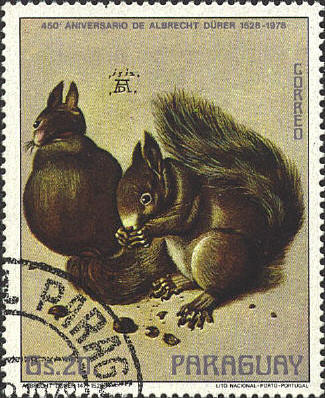 Madonna of the Pear ~ 1512
Jesus holds a slice of pear which his mother has cut for him. He has taken a bite from the pear. The pear appears in Italian paintings of the Mother and Child used by Bernardo di Chiarvalle of the Cantico dei Cantici to convey the gift of sweetness of mouth and heart, which is one of the gifts of the wise according to St. Bonaventure. The painting is in the Kunsthistorisches Museum in Vienna.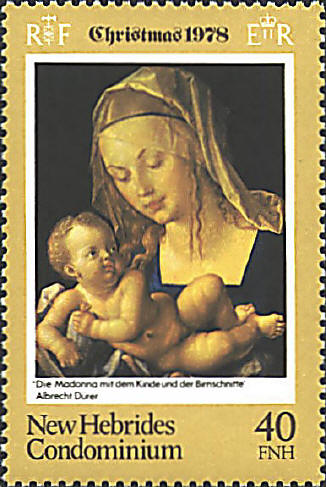 Lute-playing Angel ~ 1506
The panel was painted as an altar-piece for the church of St. Bartolomeo near the Fondaco dei Dedeschi. The image on the stamp is a small detail from the altar-piece called The Madonna of the Rose Garlands, or The Brotherhood of the Rosary.
The lute is a Venetian shaped instrument. The position of the right hand with the two middle fingers close together and the outer fingers spread apart is symbolic of reverent prayer.