Marco Polo was born in Venice in 1254. His father and uncle were merchants. In 1260 they traveled by land to China, where they remained in Kaifeng the eastern capital of the Mongol emperor, Kublai Kahn until 1269. Two years later they returned to China taking Marco with them and arriving at Shang Tu, China in 1275.
Marco Polo entered diplomatic corps of Kublai Kahn and carried out missions throughout the empire, even serving as governor of Yangchow. In 1292 he served as an escort for a Chinese princess on a trip to Iran. Once that mission was completed Marco and his family continued on to Venice where they arrived in 1295.
The map that provides the background of the souvenir sheet is Mappa Monde o Vero Carta Generale del Globo Terestre Representato in due Planisferi E nuouamente coretta e in piu parte Aumentata secondo le Relatione piu recente, prepared by Nicholas Sanson of Abbeville (1600-1667), engraved by Gio. Lhuilier and published in 1684 by Gio. Iacomo de Rossi. The route of the Polos on their journey to Iran and then to Venice is traced in red on the map.
The image of Marco Polo on the stamp on the sheet is from the first printed edition of Il Milione, Marco Polo's account of his twenty-five years in Asia. Marco Polo died in 1324.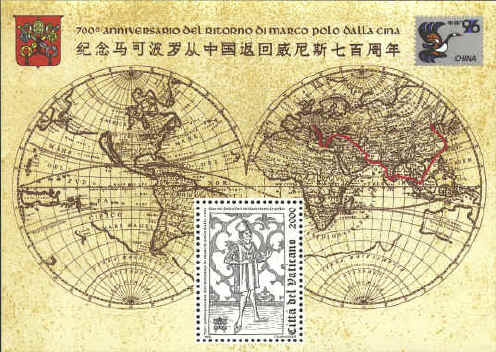 See the other stamps that were issued by the Vatican with this souvenir sheet by clicking here.