The miniatures on the stamps marking the 700 anniversary of Marco Polo's return from China are from the early 15th century manuscript of Li livres du Graunt Caam (Bodleian Library, MS. Bodley 264.).
Marco Polo delivers a letter from Pope Gregory X to the Great Khan
(folio 220 recto)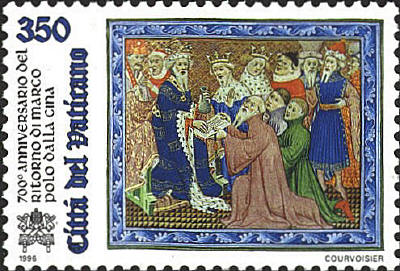 The Great Khan dispensing alms to the poor in Cambaluc
(folio 244 recto)
Marco Polo receiving the Golden Book from the Great Khan
(folio 219 recto)
In Persia Marco Polo listening to the story of the Three Kings
(folio 223 recto)
The manuscript from which these miniatures are taken is available on the Internet. Select the folio you want to view and click on it. Li livres du Graunt Caam begins with folio 218 recto.