Hrvoje Vukčić Hrvatinić was born around 1350, the eldest son of Duke Vukac Hrvatinić. In 1403 he was named regent for Hungary, Croatia and Dalmatia, and was made Duke of Split. In 1415 he invited the Ottomans to help him defeat the Hungarian army. The Hungarians were defeated, but the Turks did not leave. After 1416 Hrvoje's name was never mentioned in historical documents again.
Two books were written for Hrvoje, a Glagolitic missal and a Cyrillic anthology of biblical and other texts.
Hrvoje's Missal ~ 1403-1404
The missal was transcribed by the copyist Butko in Glagolitic on 247 sheets with 380 illuminated initials and over a hundred miniatures. It was written in 1403-1404 for St. Michael's church in Split. After Bosnia fell to the Turks the codes went to the library of Corvine in Buda, then to Topkapi Sarai library Constantinople, where it remains. On the stamp the miniature shows a scene from the life of Jesus, Jesus and the Samaritan woman, with the walls of Diocletian's palace in the background. The stamp was issued on the 600th anniversary of the composition of the Missal.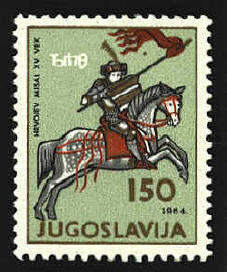 Hvalov Zbornik's Anthology ~ 1404
The manuscript was written by Hvalov Zbornik "to the honor of the glorious sire, Hrvoje, Duke of Split and Duke of Doljnji Kraj (the lowlands) and many other lands". It was written on 353 sheets of fine parchment and illuminated with miniatures, ornaments, and illuminated initials. The text is in Croatian Cyrillic with a Glagolitic introduction. The miniatures are by two painters; one paints on a blue background, the other on a gold background. One of the artists is Hval, but it is not known which. The manuscript is preserved in the University library of Bologna in Italy since the 18th century.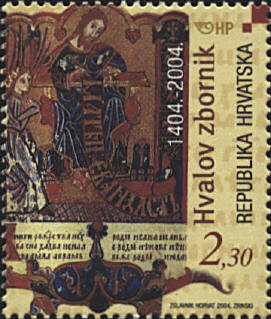 The Croatian stamp was issued for the 600th anniversary of the composition of the manuscript.