Arctic Exploration
This stamp commemorates the conquest of the North Pole, and the 50th anniversary of Admiral Peary's expedition . The map shows the top of a globe with Greenland and the territory north of Canada.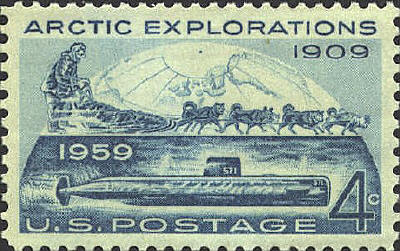 The St. Lawrence Seaway ~ 1958
The St. Lawrence Seaway was built by Canada and the United States to make it possible for ocean-going ships to sail in the Great Lakes. Planning began in 1949, work on the project began in 1954, and was completed in 1958. The icebreaker "D'Iberville" made the first passage through the seaway on April 25, 1959. It was officially opened June 26, 1959. This is the first jointly issued stamp by the United States with another country.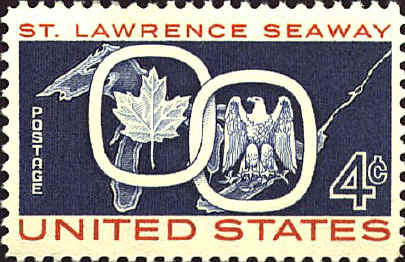 Alaska Statehood ~ 1959
Alaska (January 3) and Hawaii (August 21) were admitted to the Union in 1959 as the 49th and 50 States.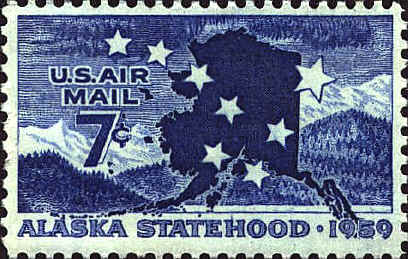 Hawaii Statehood ~ 1959
The United States issued this stamp on August 21, 1959 to mark the day of statehood for Hawaii, the 50th state in the Union. As an interesting sidelight on the stamp the island on the far left in the upper corner, Niihua, is not a part of the State of Hawaii, nor of the United States. It is a private island purchased in 1864 from the Polynesian monarch, Kamehameha V, for $10,000 in Gold, and still owned by a Robinson family.
In addition to the map and star of statehood, the design includes the figure of an Alii warrior, a hereditary noble in traditional Hawaiian society.