Oklahoma Statehood ~ 1907
Oklahoma was the first State admitted to the Union in the 20th Century. It was formed from Oklahoma Territory and Indian Territory. The stamp was issued in 1957 for the 50th Anniversary of Statehood.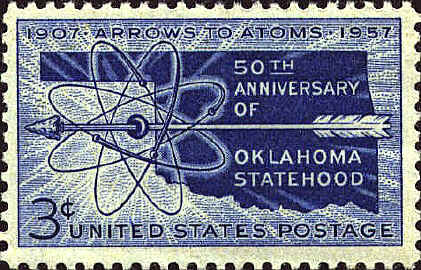 Atlantic Cable ~ 1858
In 1858 the British ship Agamemnon and the U.S. ship Niagara sailed from Ireland, each carrying more than 1,000 miles of cable. They sailed to the mid-Atlantic and there they spliced their cables together. They laid the cable in both directions to Valentia, Ireland, and Trinity Bay, Newfoundland. Formal messages were exchanged between Queen Victoria of England and President Buchanan of the United States, but within a month the cable had failed and it was not until 1865 that continuous communications were possible.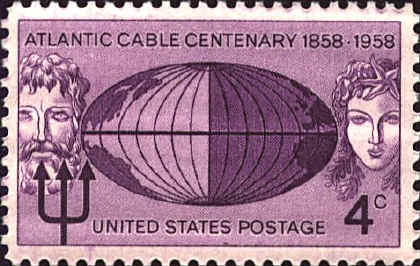 Overland Mail Company ~ 1857
In 1857 several companies joined to form the Overland Mail Company. They established twice-a-week mail service between St. Louis, Missouri and San Francisco, California. The route ran for 2,757 miles through the Southwest, through El Paso and Los Angeles. The mail was carried by stage coach and took about 25 days to complete the trip. The route is shown on the stamp issued in 1958.