Great Lakes Transportation
The Great Lakes Transportation stamp was issued to celebrate the centennial of transportation on the Great Lakes in 1955, and as a tribute to the Soo Locks Exposition.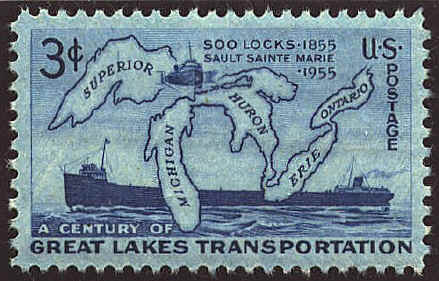 Atoms for Peace
The Atoms for Peace stamp shows the whole world on two globes.
Fort Ticonderoga ~ 1755
Fort Carillon was begun by the French in 1755 between Lake George and Lake Champlain on the Richlieu River. It was based on Vauban's ancient fortress at Metz in Alsace-Lorraine. The English captured it in 1759, and renamed it Fort Ticonderoga. Colonel Ethan Allen, said to be represented by the figure in the design, recaptured the Fort for the Continental Congress. The stamp commemorates the two hundredth anniversary of its founding by the French. The image on the stamp was drawn by Michel Chartier de Lotbiniere for the original construction of the Fort by the French.
Hampton Roads
The stamp was issued to celebrate the 350th anniversary of the founding of Jamestown. In the lower, left corner of the stamp is a small map of Hampton Roads where the Monitor and the Merrimac fought their famous battle. The stamp also paid tribute to the International Naval Review which was part of the celebration.