International Red Cross
A stamp issued in 1950 to honor the International Red Cross has a globe showing the western hemisphere and a small part of Africa.
Ohio Statehood ~ 1803
Ohio was the first State created out of the Northwest Territory. It became a State in 1803. The stamp was issued in 1953 to commemorate the sesquicentennial of Statehood for Ohio.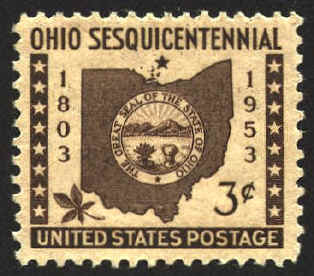 Gadsden Purchase ~ 1853
On December 30, 1853 the United States purchased a strip of land (29,640 square miles) in the Mesilla Valley south of the Gila River from Mexico for $10 million. The purpose was to provide a route for a railroad to the Pacific, but before it could be built the Civil War began and the project was dropped. The land is now part of Arizona and New Mexico.
Rotary International
The stamp was issued to mark the 50th anniversary of the founding of Rotary International.