Mississippi Territory ~ 1798
The territory of Mississippi was established by treaty with Spain in 1798. The stamp celebrates the 150th anniversary of that event in 1948. The State seal preserves the original spelling, "Missisippi."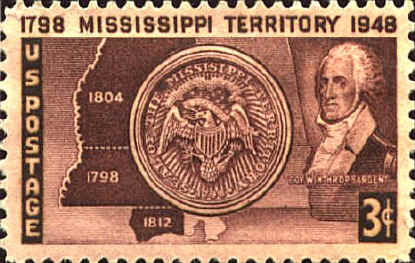 Wisconsin Statehood ~ 1848
Wisconsin became a state in 1848, and 100 years later a stamp was issued to commemorate the anniversary.
Annapolis Tercentenary
The town of Annapolis, Maryland was founded in 1649. It became the capitol of Maryland in 1695, the first peace-time capitol of the United States in 1783-1784, and the home of the United States Naval Academy since 1845. The stamp issued in 1949 commemorates the 300th anniversary of the founding of Annapolis. The design is based on James Stoddert's manuscript survey of Annapolis and vicinity, 1718.
In honor of the 75th anniversary of the Universal Postal Union these stamps were issued.