Franklin Delano Roosevelt ~ 1882-1945
Franklin Delano Roosevelt (1882-1945) was the 32nd President of the United States. He died of natural causes while still in office. He was elected to the presidency four times, and led the United States through World War II. He died on April 12, 1945, a month before the end of the war in Europe. A special series of stamps was issued as a memorial. The high value was issued in 1946 and features a globe showing the western hemisphere.
Iowa Statehood ~ 1846
A stamp was issued in 1946 to commemorate the 100th anniversary of statehood for Iowa.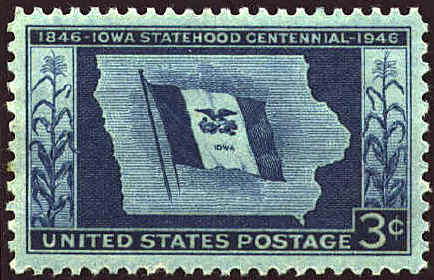 Indian Centennial
The stamp commemorates the 100th anniversary of the Five Civilized Tribes, the Cherokees, Chickasaws, Choctaws, Muscogees (Creeks), and Seminoles, who were forcibly relocated from their traditional homes in the southeastern United States, over the "Trail of Tears' to Indian Territory in what is now Oklahoma.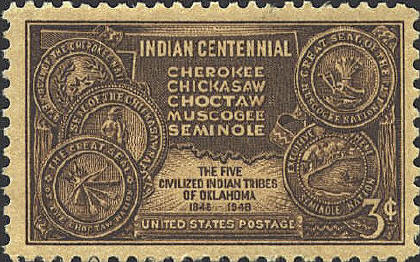 Everglades National Park ~ 1947
The Everglades were designated a National Park in 1947. The stamp issued the same year shows its location in the State of Florida.
New York City
The airmail stamp honors the 50th anniversary of the consolidation of the five boroughs, the Bronx, Brooklyn, Queens, Staten Island and Manhattan, and the establishment of Greater New York City.