St. Methodius (b. 826) and his brother, St. Cyril (b. 827) are know as the Apostles to the Slavs. They were sent in response to a request from the Khazars for a Christian teacher. Next they went to the Moravians who wanted a teacher who could instruct them and lead worship in Slavonic. In 868 they were called to Rome. There Pope Adrian II sanctioned their Slavonic liturgy and ordained them Bishops. Cyril died in 869 and was unable to return to Moravia. Methodius was appointed bishop of the new Archdiocese of Moravia and Pannonia. He translated the Bible into Slavonic. He died in 885.
Clockwise from the upper left: a page from a 13th century Gospel, St. Cyril from a miniature of 1567, a 16th century book cover.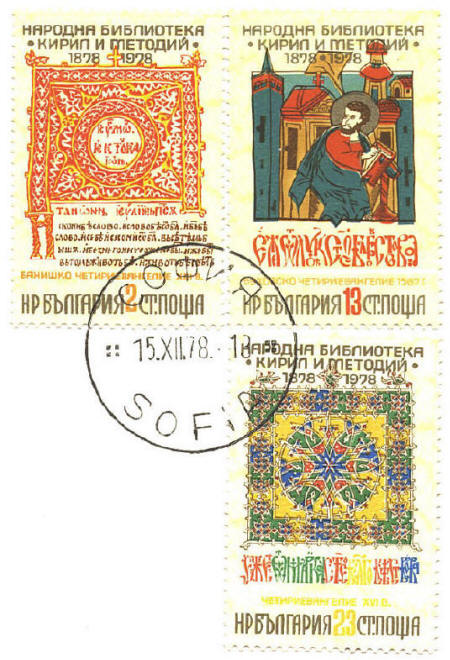 The souvenir sheet shows St. Methodius in a miniature from the 13th century. The stamps and sheet were issued to mark the 100th anniversary of the Cyril and Methodius National Library in Sofia, Bulgaria.
Ostomirov Gospel ~ 1056-1057
The Ostomirov Gospel is attributed to Saints Cyril and Methodius and dated to 1056-1057. However, Cyril died in 869 and Methodius, in 884. The miniature from the Gospel is St. Methodius receiving inspiration from Mark in the form of an ox.