EROS Data Center
"Landsat" refers to land survey by satelites. On this piece of postal stationery images of San Francisco, Washington, and New York (left to right) are shown in "false color." The indicium displays the seven bands of data acquired by the high altitude survey. The cachet shows the Landsat satelite tracking the eastern United States on a north-to-south orbit.
The Earth Resources Observation Systems (EROS) Data Center is located at Sioux Falls, South Dakota, and operates the Landsat program for the U.S. Geological Survey, an agency of the Department of the Interior.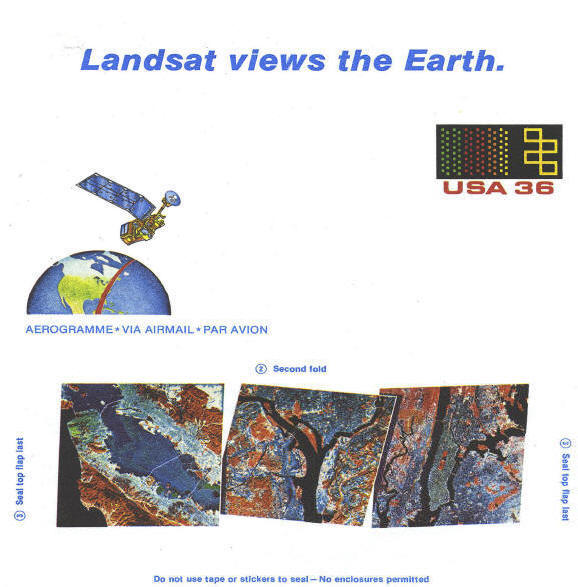 Hubert H. Humphrey
Although his public service was in and for the neighboring State of Minnesota, Senator Humphrey was born in Wallace, South Dakota in 1911. He served in the United States Senate from 1948 to 1964, 1970-1978. In 1965 he was elected the 38th Vice President of the United States, and in 1968 he was the unsuccessful Democrat candidate for President. Eleven other Vice Presidents have appeared on stamps. He is the first Vice President portrayed on a stamp who did not go on to become President to be. He died in 1978.