Electric Trams Centennary
In 1994 Norway celebrated the centennay of Electric tram lines with two stamps with a background of city maps.
The first electric tram in Scandinavia ran through the streets of Christiania (Oslo) in March 1894. The car on the stamp (No. 1) was built the same year by Herbrand-AEG in Berlin. In the background there is a map from 1880 of the inner city.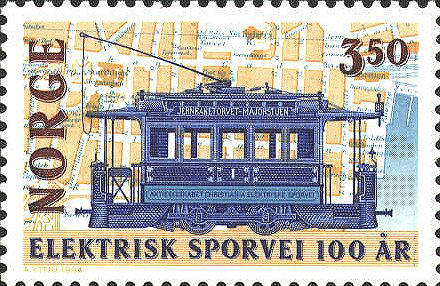 The modern tram is a S79, a 22,4 m long articulated type, belonging to the municipally owned Oslo Sporveier, the only tramway company in Oslo today. The cars, Nos. 101-140, have names after cities abroad. The tram on the stamp (No. 131) is named "Sacramento", here on line 11 to Kjelsås. In the background there is a map of Oslo, a blue line indicating tram-routes and several tram-stops.