Pedro Barretto de Resende ~ 1635
The plans of Portuguese colonies in India were drawn by Pedro Barreto de Resende in 1635 to illustrate his Relacion de India. Barreto was the private secretary of Miguel de Noroha, Conde de Linhares, the viceroy of Portuguese India. The stamps were issued to commemorate the four hundred and fiftieth anniversary of the establishment of Portuguese India.
Bašaim
Bašaim, now Bassein, is a seaport at the southern end of an island twenty-five miles north of Bombay. It was occupied by the Portuguese in 1533. It became a very wealthy city. In 1739 the native Mahrattas captured it from the Portuguese.
Mombiam
Bombay was called Mombiam by the Portuguese. They first entered the harbor in 1509. Twenty-five years later they took possession. In 1655 it was given to England as a part of Catherine of Portugal's dowry on her marriage to Charles II. In the plan, west is at the top of the stamp.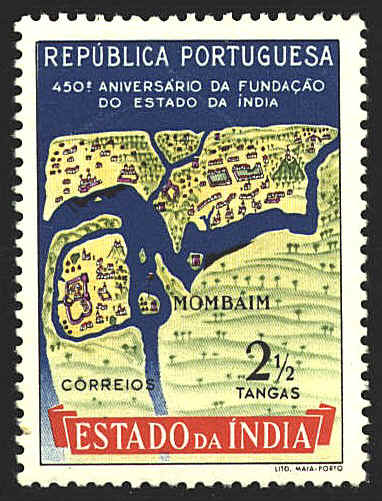 Goa
Goa was the most important of the Portuguese possessions in India. The old city, marked in the upper right-hand corner of the island by a small square fortress was founded in 1440. It was captured by the Portuguese under Alfonso de Albuquerque in 1510. For a time it was an important city with a population of two hundred thousand. Later it declined because of an unhealthy location. In 1961 it was occupied by India.