Russian Polar Explorers
The souvenir sheet issued in 2000 honors five Russian polar explorers. They are from the top of the left column to the top of the right column: Vladimir Yur'evich Vise (1886-1954), who was involved with the physical sciences, geography, geophysics, oceanography and meteorology; ; P. A. Gordienko (1913-1982); Aleksej Feodorovich Treshnikov (1914-1991), the leader of the second Russion expedition in 1957; Mikhail Mikailovich Somov (1908-1973), the leader of the first Russian Antarctic exploration in 1957; and R. L Samoilovich (1881-1940).
Vostok Research Station
The Vostok Research Station, the first station in the Antarctic interior, was opened in 1957 as a part of the International Geophysical Year. It was named for one of the sloops on which Bellingshousen and Lazarev sailed around the world in 1819-1821. The station is located at the South geomagnetic pole, and the coldest spot on the continent with temperatures as low as -89.2° Celsius.
Since 1995 a major project at the station has been drilling and analyzing ice cores of the Vostok lake which lies 252 meters below sea level under 3,750 meters of ice. The cores provide records of atmospheric chemistry for approximately 200,000 years.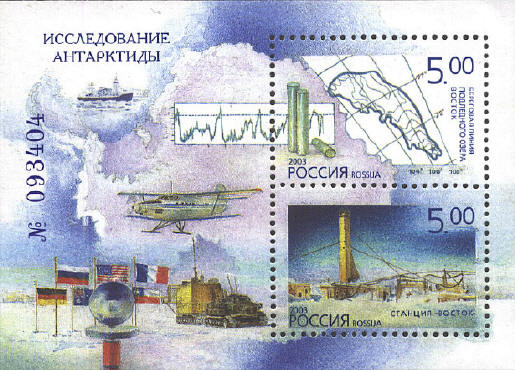 Argentina
The stamp commemorates the launching of sounding balloons and of a Gamma Centaur rocket in the Antarctic during February, 1965.