To celebrate the 500 anniversary of the Emperor Charles V Spain issued a souvenir sheet that displays the world map of Abraham Ortelius first published in his atlas, Theatrum Orbis Terrarum in 1570. The map is in the Library of Albert I in Brussels.
The oval projection of the map is similar to the one used by Benedetto Bordone in 1528. The map was influenced by Gerard Mercator whose map of twenty-one sheets was published in 1569.
The version displayed on the souvenir sheet shows the word æternitas undivided as in 1570, but with the clouds of 1586, while the four islands to the east of Australia of 1587 do not appear.
Titian's 1548 portrait of the emperor on horseback following his victory over the Protestants at the Battle of Mühlberg (1547),is in the Prado in Madrid.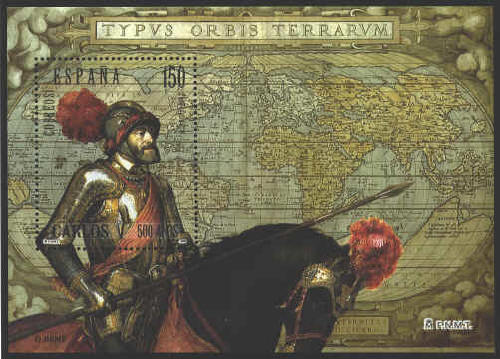 Ortelius' Typus Orbis Terrarum (Image of the Countries of the World) was first published in 1570. On the stamp the word æternitas in the lower cartouche is broken between the lines. This, and the shape of the clouds, indicates that the map is based on Plate 2 from the 1586 edition of the atlas, Theatrum Orbis Terrarum. The cartouche has a quotation from Cicero: "Who can consider human affairs to be great, when he comprehends the eternity and the vastness of the stars."
The stamp was issued in 2002 to commemorate the 500th anniversary of the first circumnavigation of the world by Ferdinand Magellan, 1519-1522. The medallion is identified as Carlos I, King of Spain, who was also Charles V, the Holy Roman Emperor.