The Manesse Manuscript (Grosse Heidelberger Liederhandschrift) was copied and illustrated between 1305 and 1340 in Zurich, Switzerland. It contains the songs of the Minnesänger, German knights, poets and singers of virtues of courtly love (Minne). The manuscript also has pictures of 137 of the singers, showing them as idealized knights, with their heraldic colors and devices. The manuscript was probably compiled at Zürich and is preserved in the University of Heidelberg Library.
The stamp issued in 1958 to mark the Third Austrian Song Festival in Vienna displays a picture of Walter von der Vogelweide, a poet, from the Manesse manuscript. His famous and very beautiful Palëstinalied dates from the Crusade of 1228. It was rediscovered in 1910; it is the earliest surviving Minnesinger melody (a variant on a Provençal troubadour song). Walter is considered the finest poet of the German language before Goethe. He may have painted the picture used on the stamp himself.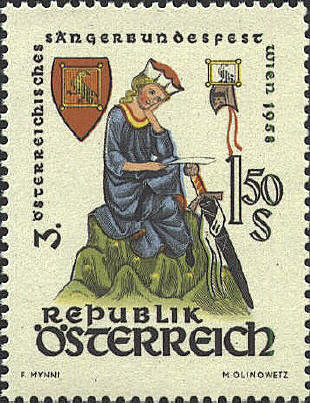 In 1988 Switzerland issued a set of four stamps with miniatures from the Manesse manuscript.
Count Rudolf von Nurenburg, 12th, 13th century