Lopo Homem (d. 1565) was a 16th century Portuguese cartographer. In 1524 he served on the commission established by the Portuguese and Spanish crown to set the limits of their respective spheres of navigation. He was the father of Diogo Homem who was also a cartographer.
Homem was appointed mestre de cartas de marear, or Master of Navigation Charts, by King Manuel I of Portugal. One of his tasks was the creation of a manuscript atlas as a gift from Manuel I to Francis I of France. The Brazilian stamp represents the introductory map in the so-called "Miller Atlas" of 1519 in the Bibliothèque Nationale in Paris. The map, drawn by Homem, is fairly accurate in those areas explored by the Portuguese, but it is full of inaccuracies and exaggerations elsewhere. On the stamp the map is printed with Brazil on the top so the wind deities pictured on the original could be included in the design.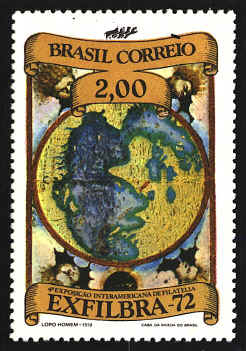 Homem was concerned about the quality of the individual maps, so he asked Pedro Reinel for help. Reinel is the first Portuguese cartographer whose name is recorded. His son, Jorge, was also a cartographer, and both were involved in the production of the atlas.
The stamp below shows the mouth of the Ganges River in India on a chart by Pedro Reinel in the 1519 atlas.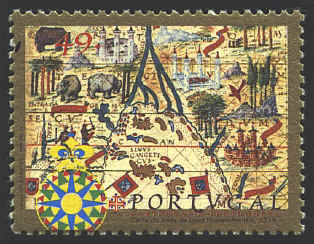 The stamps below shows a portion of Brazil on a map entitled Tabula hec Regionis magni brasilis... from the Atlas. The map identifies many locations on the coast and the interior is filled with pictures representing South American life. It shows the coast and interior of Brazil. Figures of natives, birds, and animals fill the interior, while the names of various locations are inscribed around the coast of Brazil. The red line is the Tropic of Cancer.
l