In 1980 Jersey issued a set of four stamps featuring maps drawn in 1679 by Thomas Phillips (ca. 1635-1693). The maps were used by Colonel George Legge (ca. 1647-1691) to illustrate A Short Accompt of Jersey and Its Forts in 1680, which describes the six principal harbors and three main fortifications of the island. The stamps were issued to celebrate the tercentenary of the publication of Legge's Short Account. Thomas went on to become James II's second gunner, and Legge became Admiral of the Fleet, and the first Baron of Dartmouth.
The high value is based on Phillips "ground plot," which shows the whole island and the location of the three main fortifications: Fort Orgueil on the East coast; and St. Aubin and Elizabeth's Castle on the South coast.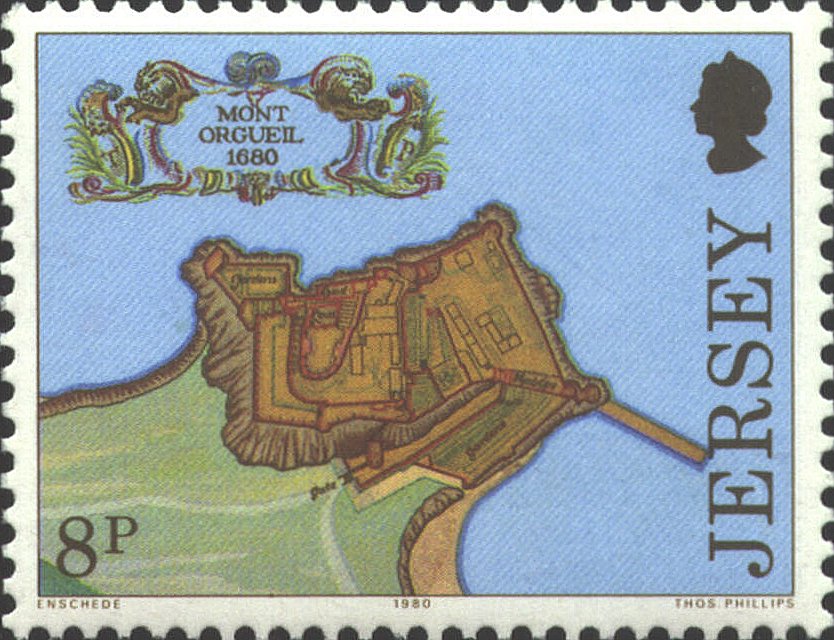 Mont Orgueil is thought to have been begun in 1207; the first mention of the fort is in 1212. At the end of the sixteenth century it was allowed to fall into disuse, but it was restored by Sir Walter Raleigh who assumed the governorship in 1600.
Le Tour de St. Aubin was located on a islet off the western shore of St. Aubin's bay. It began as a single story tower built by Edward Seymour, Jane Seymour's brother and governor of the island from 1537 to 1550.
Le Chateau de Elizabeth was built on an islet off the town of St. Helier on the eastern shore of St. Aubin's Bay in 1550. It was proposed to fund the construction by the confiscation of all the church bells on the island but one in each parish. However the ship carrying the bells to St. Helier foundered and sank in the harbor. Sir Walter Raleigh named it Fort Isabella Bellissima as a tribute to his Queen. Charles, Prince of Wales took refuge there in1646, and after the Restoration the whole islet was enclosed by walls, which is the condition of the fortifications on the stamp.