Zugspitze
In October 1878, King Ludwig II of Bavaria signed a foundation charter for a Royal Bavarian meteorological central observatory based in Munich. An observation network spanning 34 stations all over Bavaria was established. The network was complemented by the meteorological station which was opened in 1900 on the Zugspitze, Germany's highest mountain.
Construction of the meteorological tower commenced in the autumn of 1898. On 19 July 1900, the now fully equipped tower was taken over as a meteorological observatory by the Royal Bavarian Ministry of Culture. Today, in addition to his observation activities, a meteorological technician maintains the many measurement instruments installed in the tower. The weather observatory on the Zugspitze is by far the highest and best-known mountain station of the German meteorological service.
The stamp was issued in 2000 to celebrate the centenary of the meteorological station on Zugspitze. The stamp shows a weather map.
Deutsche Post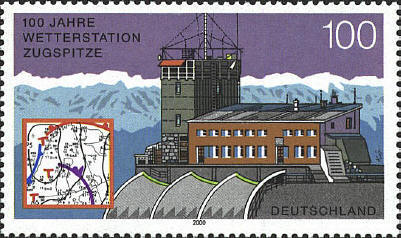 Kuwait 577
The International Meteorological Organization was established in 1873. In 1951 it was replaced by the World Meteorological Organization, a specialized agency of the United Nations. In 1973 Kuwait issued a set of three stamps with the same design in observance of the centenary of the IMO_WMO.
The stamp shows a map of the middle east, from the Italy on the west to the Arab Ocean on the east, and shows a meteorological map of the area.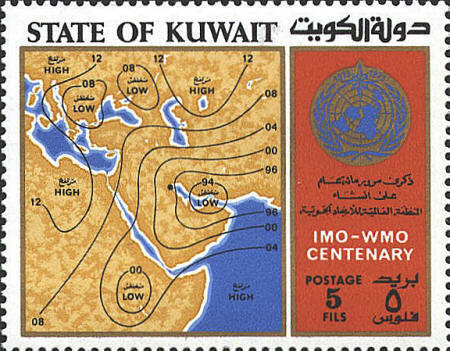 Faroe Islands 220
The stamp issued by the Faroe Islands in 1991 shows a weather satellite and a weather map.