Iceland B6
The current view of archaelogists and historians is that Vinland was located at L'ans aux Meadows on the northern-most point of Newfoundland, as indicated on the stamp. However, in 1938, when the stamp was issued, generally accepted opinions identified Nova Scotia or the Cape Cod/Long Island Region as more probable sites for Vinland contrary to the view expressed by the stamp design, so though the location is correct the stamp was still in error in its day.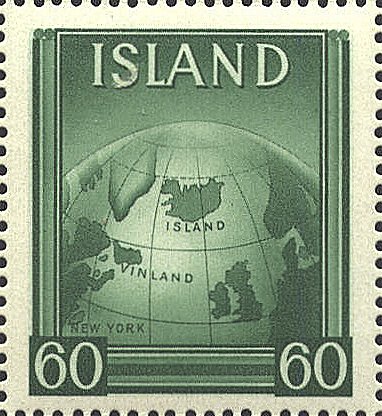 In addition, Iceland is much larger than it should be in relationship to Greenland, and Newfoundland is somewhat misshapen.
The souvenir sheet from which the stamp was taken was issued to celebrate Leif Ericsson Day in Scandinavia, October 9, 1938.