The chart of the Gulf of Finland on the stamp and on the cover of the booklet was drawn in 1676 by the Dutch publisher, Hendrick Doncker (1626-1699). For about fifty years Hendrick Doncker ran a flourishing business in Amsterdam as a bookseller and publisher of sea atlases and textbooks on navigation. In a period when so many maps and charts were simply copied from other publishers, Doncker's charts were his own work and were noted for their accuracy and constant improvement. Apart from this work, he cooperated for many years with Pieter Goos and Anthonie Jacobsz in producing a pilot guide, De Zeespiegel. Eventually his stock was sold to Johannes van Keulen.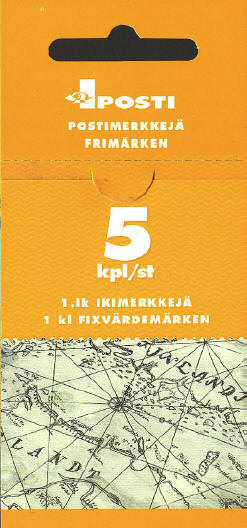 Two stamps issued by the Netherlands Antilles show portions of De Carybsche Eylanden van de barbados tot de bocht van Mexico toe nu eerst Uyt gegeeven door Arnold Colom tot Amsterdam op het Water by de Nieuwe brugh in de Lichtende Colom (The Caribbean Islands Newly Set Forth and Amended by Arnold Colom, Amsterdam), 1656.
The chart by Arnold Colom was re-issued by Hendrick Doncker in his De Nieuwe Groote Vermeerderde Zee-Atlas in 1688.
Curaçao and Bonaire
St. Eustatuis