In 1550 Pierre Descaliers, a priest living in Arques, a village near Dieppe, and the "father of French cartography," created his masterpiece, Faicte a Arques par Pierres Descaliers p[res]b[yt]reian: 1550. It portrays parts of Mexico, Central and South America. The Straits of Magellan are noted as are the Amazon River, in a primitive form, and the Rio de la Plata. Several towns, groups of people, ships and other pictures decorate the map. A portion of North America is also visible.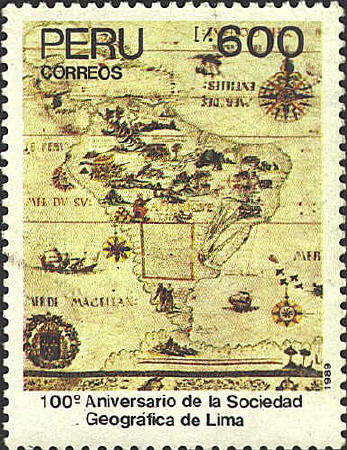 Descaliers' map was dedicated to Henry II, King of France, Grand Constable de Montmorency and Admiral Claude d'Annebaut. It was intended to enlighten the court on the state of the world as it was known in 1550. In keeping with that purpose it is the most carefully drawn and richly decorated and illustrated of Descaliers' maps.
Parts of the North American portion of the map appear on the stamp from Great Britain which honors Martin Frobisher, who sailed to North America three times in the 1570's, and gave his name to Frobisher Bay near the entrance to Hudson Strait on Baffin Island.