Decebal ruled from 87-107 A. D., and was in frequent confrontation with Rome. Trajan finally defeated Decebal in 106 and turned most of his kingdom into the Roman province Dacia.
In 2006 Romania commemorated the 1900th anniversary of the death of Decebal with a set of four stamps. The design of each stamp includes a map, and artifacts of the time.
The map on the low value is Daciarum, Moesiarumque, vetus descriptio, published by Abraham Ortelius (1528-1598) in 1595.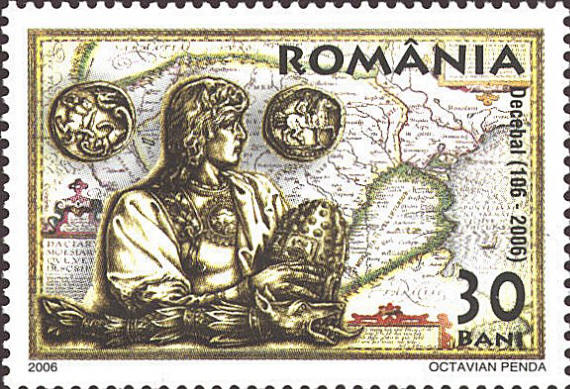 The map on the 50 bani stamp is Descriptio Daciarum Nec non Moesiarium, engraved by Pieter Van den Keere (Petrus Kærius Cælavit, 1571-1646). This map is also featured on Romania 4576 (2003) at http://www.danstopicals.com/keere.htm.