In 1988 Cape Verde issued a set of six stamps featuring engraved maps of the islands, none of which were identified except for the country and century of issue. I have been able to identify five of the maps.
This is a map by Willem Blaeu (1571-1638), Insula de Cabo Verde olim Hesperides sive Gorgades, produced in 1662.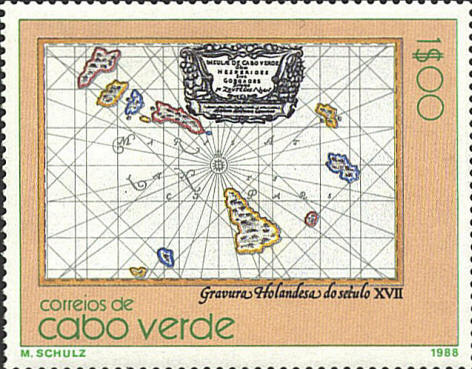 The map on this stamp was published in Paris about 1780. The map was drawn by Rigobert Bonne's son, according to the title on the map, and was published in Atlas de Toutes Parties commues du Globe Terrestrial by T.G.F. Raynal. The insert is titled "Plan de la Rade de la Praya" (Map of the Harbor of La Praya). This harbor is on the island of S. Iago (Santiago), the large island at the bottom of the map. Today it is the capital of the country of Cape Verde.