Canada
Canada issued the stamp in 1980 to commemorate the centennary of the transfer of the Arctic Islands from Britain to Canada. The Islands became a part of the Northwest Territories, until 1999 when most of the islands plus a large part of the rest of the Northwest Territories became Nunavut.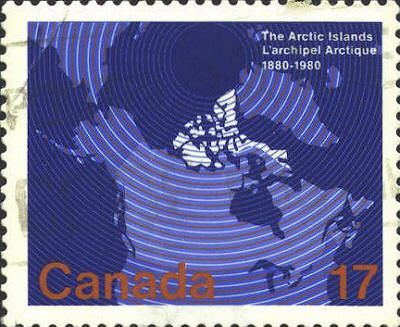 The four stamp strip shows the growth of Canada from the Confederation of Nova Scotia, New Burnswick and the Province of Canada in 1867, and the Northwest Territories and the Province of Manitoba, to the inclusion of British Columbia in 1871, Prince Edward Island in 1873, the enlargement of Manitoba in 1881. In 1898 the Yukon Territory was created and in 1905 the Provinces of Saskatchewan and Alberta were set up. The adjustment of the border between Quebec and Labrador was made in 1927 and Newfoundland joined Canada in 1949.
Fort Saint Louis ~ 1692
In 1690 shortly after the attack on Quebec by the English Admiral William Phips, the Governor ordered the construction of the first military defense building erected in Quebec city. The Fort was completed in 1692 and existed under French and British control until 1854.
The stamp was issued in 1972 to mark the Tercentenary of the appointment of Louis de Baude, Count of Frontenac and Palluau (1622-1698) as governor of New France. It shows Philippe Hébert's (1850-1917) statue of Frontenac which is in Quebec City. In the background appears a sketch of Fort Saint-Louis, Quebec, residence of the Governors of New France, as it was at the time of Frontenac's arrival.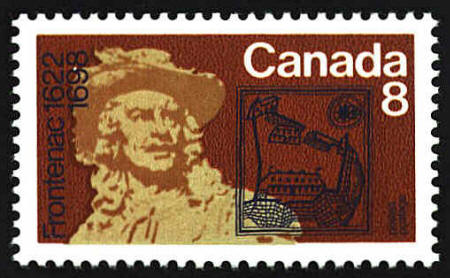 Issac Brock ~ 1812
Issac Brock, the "Hero of Upper Canada," was born on Guernsey on October 6, 1769. In 1802 he arrived in Canada, a lieutenant-Colonel in the 49th Foot Regiment. Nine years later he was promoted to Major General, and made administrator of Upper Canada, present day Ontario. Following a successful attack on Detroit which resulted in the capture of the city and the surrender of the American General Hull, Brock was knighted. Three days later he was killed at Queenston Heights.
The map shows the island of Guernsey in the English Channel off Cherbourg, France where General Brock was born. Upper Canada is shown as it would have appeared in 1812. The cities of Detroit and Queenston Heights are also shown on the map, as is Toronto the site of CAPEX (Canadian Philatelic Exhibition), and the place of issue for the souvenir sheet on June 8, 1996.
The picture on the stamp in the upper right corner reproduces a painting of Brock on his horse, Alfred. The original is displayed in the lobby of the Schmon Tower on the Brock University campus. The stamp on the lower left of the sheet shows Brock with Tecumseh, whom Brock had recruited to the British and Canadian side in the War of 1812.