The stamp commemorating the 100th anniversary of The Atlas of Canada was issued on 30 June 2006 Ottawa.
"Born in Ingersoll, Ontario, in 1863, James White graduated from the Royal Military College of Canada in 1883, and took a job at the Geological Survey of Canada. In 1899, he transferred to the Department of the Interior as its Geographer and created the Office of Chief Geographer. In 1901, he published the first general reference map of Canada, which was re-printed in 1903, 1905 and 1908, a 50 sheet set of topographical maps called the Chief Geographer's Series starting in 1903, and the first edition of the Atlas of Canada, which was presented to the minister of the Interior on June 30, 1906. At the time, no other country except Finland had ever issued such a work. Six thousand copies were distributed to institutions of higher education, public libraries, banks and newspapers, in Canada and abroad, One hundred years later, the 6th edition is online and includes more than 1,400 thematic, reference and archive maps plus links to sites offering more detailed information. The Atlas was printed in eight colors, a first for 1906.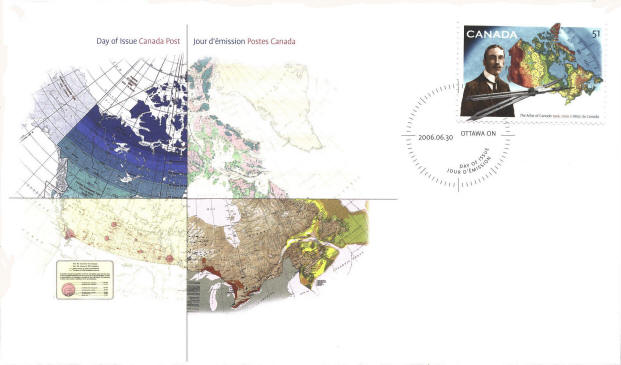 "...the stamp depicts a likeness of James White, a modern map of Canada, and a set of proportional dividers." On the sheet a different pair of dividers, part of a "Relief Map" and a satellite accompany 16 stamps, and part of another map.