In 1791 the British navigator George Vancouver, in the Discovery, took formal possession of the territory above King George Sound on the south coast for Britain.
In 1840, Edward John Eyre led an expedition from Adelaide. Failing to try to reach the center of Australia. Eyre attempted to find an overland route to Albany. . The project was abandoned at Mt. Hopeless in the Flinders Ranges, and the party moved down to Fowler's Bay. After two week's rest, Eyre and Wylie set out again and reached Albany early in July.
The coast of western Australia from Albany to Adelaide divides the stamp in half between the pictures of Vancouver and Eyre.
The stamp, issued in 1991, commemorates the two hundredth anniversary of Vancouver's visit to Western Australia and the one hundred and fiftieth anniversary of Eyre's journey to Albany, Western Australia.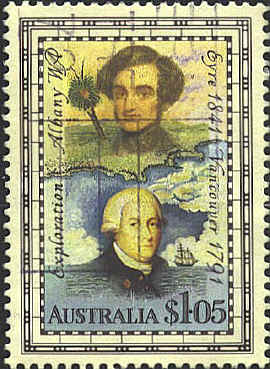 The Ile Rapa, some 700 miles SSW of Tahiti, was discovered by George Vancouver, an English navigator, explorer and cartographer, on December 22, 1791. He also drafted the map on the souvenir sheet. Vancouver Island, which he explored in 1792, and the city of Vancouver, Canada were named for him.