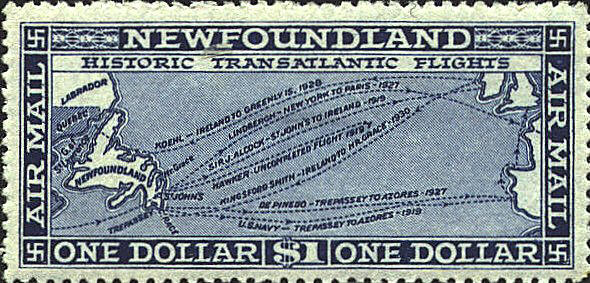 On this stamp, issued by Newfoundland in 1931 and described by William R. Horney as, "One of the best of map stamps....", seven flights between 1927 and 1930 are recorded. Horney also suggests that the map projection is "probably Transverse Mercator."
Several flights in 1919 are identified. On May 8, 1919 a U.S. Navy crew took off in Curtiss NC-4 from the Naval Air station on Long Island, New York. They flew non-stop from Trepassey, Newfoundland to the Azores. Ten days later Harry Hawker and Lieutenant Commander Mackenzie-Grieve attempted to fly a Sopwith Atlantic. They were forced to ditch their aircraft and were picked up by a Danish ship. On June 14-15 Capt. John Alcock of the United States and Lieut. Arthur W. Brown of the United Kingdom made the first non-stop transatlantic flight between Newfoundland and Clifden, Ireland in a Vickers Vimy.
The first non-stop, solo flight is Charles Lindbergh's flight in a Ryan monoplane, Spirit of St. Louis, May 20-10, 1927. He covered the 3600 miles between New York City and Paris in 33.5 hours.
Francesco De Pinedo flew from Trepassey, Newfoundland to the Azores in a twin engine Savoia-Marchetti in 1927.
Captains Hermann Köhl and James Fitzmaurice, and Baron Ehrenfried Günther von Hünefeld made the first flight from East to West on April 12-13, 1928 in a Junkers single wing plane. from the Azores to Trepassy, Newfoundland.
Charles Kingsford-Smith and his crew landed at Harbour Grace from Ireland on the last leg of the first circumnavigation of the globe by airplane. They flew in a Fokker trimotor named Southern Cross.
The arrangement of the flights on the map is not chronological but is based on the general route across the Atlantic. The design of the stamp is based on a sketch by Alfred Benjamin Perlin. A surprizing feature of the stamp are the swastikas in the four corners of the stamps. In 1931 the symbol was still considered a good luck symbol. It was used by Indian cultures throughout the western hemisphere. There is even a small community in Ontario named Swastika.