Abel Janszoon Tasman was born in the village of Lutjegast, in today's province of Groningen in the Netherlands, in 1603. In 1633 he joined the Dutch East India Company. In 1642 he was instructed to find the "Southern Continent" which had eluded explorers for many years. He prepared two ships, the Zeehaen, a "flute," a long narrow ship of 100 tons carrying 50 men, and the Heemskerck, a small warship of about 60 tons with 60 men. The stamps show the ships against an outline map of the eastern Pacific.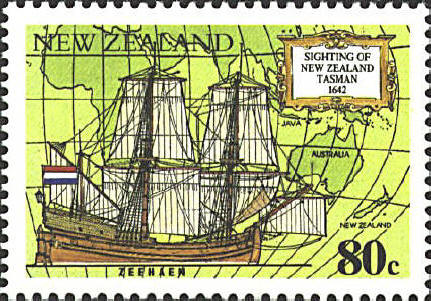 On December 13 the sighted land, which Tasman named "Staten Landt." referring to the land claimed by the Dutch States-General. Only later was it discovered that this was, in fact, a new discovery and had no connection with the Dutch claims in Australia.
The stamps from the Netherlands and New Zealand have a map of the area of New Zealand which Tasman sighted, in the vicinity of the coast between modern Hokitika and Okarito, on the west coast of the South Island. The map is by Frans Jacobszoon (Visscher), the Heemskerck's Pilot-Major, and presently in the State Archives in The Hague.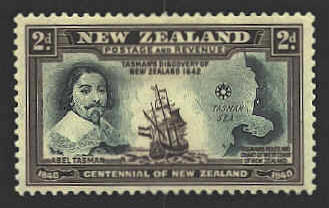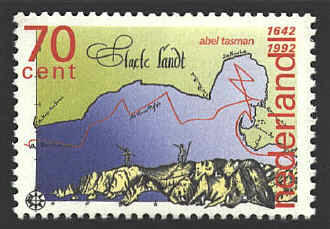 The stamp from Ciskei shows Tasman's course.