From 1898-1902 Otto Sverdrup mapped the southern and western coasts of Ellesmere Island and visited Axel Heiber and the Ringnes Islands in Baffin Bay. This area now known as the "Sverdrup Islands" is a part of Nunavut today.
Before this expedition Sverdrup accompanied Fridtjof Nansen in the attempt to cross Greenland from east to west, and was the captain of Nansen's base ship the Fram in the attempt to reach the North Pole by allowing the Fram to drift north with the ice. Nansen left the ship in 1895; Sverdrup brought the ship back to Norway in 1896.
A joint issue of stamps and souvenir sheet by Canada, Norway and Greenland commemorate the 150th anniversary of Sverdrup's birth, and the 100th anniversary of his mapping of the Sverdrup Islands.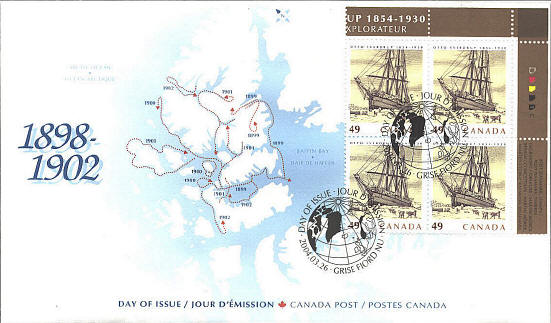 On the map on the first day cover Greenland is the land area to the right. Ellesmer Island is the first island to the west, and Axel Heiber Island is the next island to the west. The ship on the stamps is the Fram designed by Sverdrup.