Sharjah 1
In 1951 Saqr bin Sultan al Qasimi was installed as the rule of Sharjah by the British. The first post office was opened on July 10, 1963, and the government issued its first stamps.
Sharjah SG 170, M 189
A post office was opened in Khor Fakkan, a dependency of Sharjah, on February 20, 1965.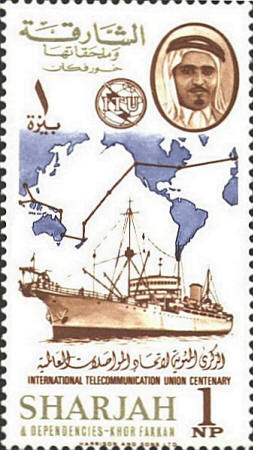 Sharjah SG 157, M 176
The British deposed Saqr bin Sultan al Qasimi on June 24, 1965, and its stamps were altered by obliterating his portrait.
The maps on Sharjah 1 and Michel 176 show the territory of Sharjah and its dependencies. The map on Sharjah Michel 185 shows SEACOM and COMPAC communications cables. The ship is HMTS (Her Majesty's Telecommunications Ship) Monarch, a ship specifically designed to lay undersea telecommunications cable.
In 1971 Abu Dhabai, Dubai, Sharjah, Ajman, Ras al-Khaima, Fujairah, and Umm al-Aqywan achieved independence and formed the United Arab Emirates in the northwest corner of the Arabian peninsula.