The Rudimentum Novitorum is in a book printed in 1475 by the Magister Lucas Brandis de Schass in Lübeck. According to a colophon in the book it was published "with the aid of the art of printing newly invented by the special grace of God to the redemption of the faithful"…"to serve as a manual to students, and to dispense the poorer of them with the necessity for buying other books."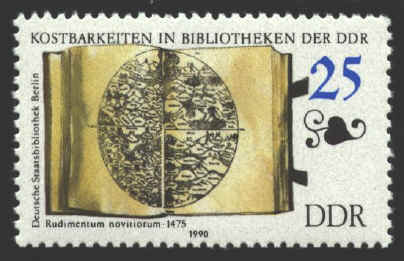 The circular map of the world was produced as a woodblock by an anonymous cartographer. It is 38.2 centimeters in diameter. It is the second printed map in Europe. (The first was also a T-O map in the dictionary of St. Isidore of Seville printed in 1472 in Augsburg.) The map is in the familiar T-O format with Asia at the top, Europe at the lower left, and Africa in the lower right. Countries are identified by their frequently familiar names in the appropriate part of the map.
The stamp was issued in 1990, one of the last issues from the German Democratic Republic. It is part of a set of four stamps illustrating treasures in German libraries.