The Portuguese Republic of Angola issued the stamp in 1969 to celebrate the 500th anniversary of the birth of Vasco Da Gama.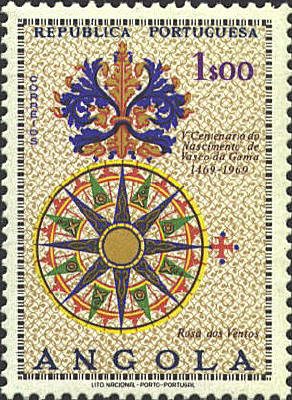 To mark the 200th anniversary of Francisco Antonio Maurelle's visit in 1782 the Solomon Islands issued this stamp with two 18th century compass roses. Maurelle had been blown off course on a voyage from the Philippines to America.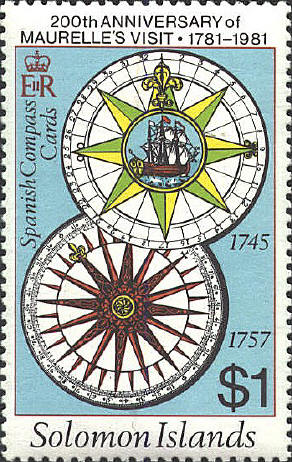 The Turkish stamp shows what is intended to be a very unusual compass rose. The stamp was issued in 1954 in honor of the 5th anniversary of NATO. The capital letters at the four cardinal points of the compass rose spell NATO, and the 14 points of the rose symbolize the 14 NATO member nations. Those nations are also colored a dark brown on the map.
The translation of Kuzey Atlantik Teşekulati Pakt (counter clockwise around the compass rose) is "North Atlantic Treaty Organization." Peter P. Szabaga first pointed this out to me. (See his web site on compass roses.) "Yurtta Sulh, Cihanda Sulh" are a quotation from Mustaf Kemal Atatürk which means, "Peace at home, peace in the world."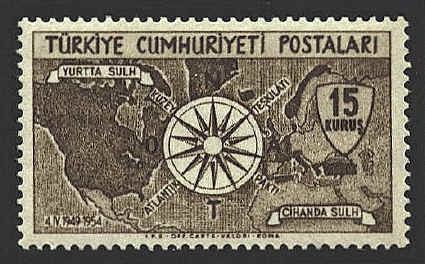 Other stamps with compass roses include: Algeria 351, Czechoslovakia 1691, 2839, Denmark 751, Germany 1772, Madeira 76, Mali C125-C128, Marshall Islands 39, 47, Portugal 1058, 1059, 1073, 1074, Samoa 291, St. Thomas & Prince 972, South West Africa 492, Spain 2783, United States U571, Uruguay C392.
An interesting article on the compass rose, "The Way of the Rose," by Paul DeF. Hicks, Jr. was published in Mercator's World, November/December 1998, pp. 24-27.
A web page devoted to compass roses on stamps is at: http://pages.prodigy.net/pizzabagel/CompassRoses_Stamps.htm