The Postal Authorities of the Economic Cooperation Organization held their third meeting in Ankara, Turkey on September 19-21, 2006. Four of the ten members issued similar stamps to commemorate the meeting: Iran, Kazakhstan, Pakistan and Turkey.
Two of the stamps issued have design errors. Kazakhstan's stamp was issued on September 15, 2007 with the meeting indicated as having been held in Istanbul.
The stamp was withdrawn and reissued on October 15, 2007 with "Istanbul" obliterated and "Ankara" overprinted in gold.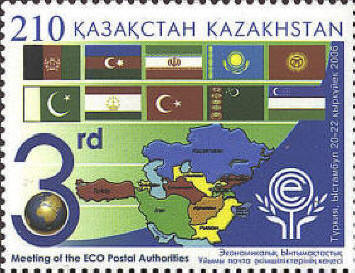 Pakistan's issue has several mistakes: Pakistan's name is omitted, while I. R. Iran is printed on the stamp. The value 650 Rials, the value of the Iranian stamp is printed in addition to the Pakistani value of 10 Rials. In fact the stamp was issued in 2006.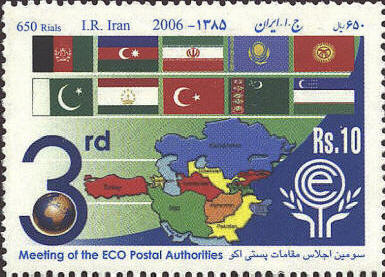 Turkey and Iran issued stamps their stamps in 2007, with one difference from the other maps. The source of the map is http://www.ecosecretariat.org/Countries/map.htm. On these two maps the "Disputed territory of Kashmir" has been omitted.