Expedition to the South Pole
The stamp was issued in 1966 to commemorate the 1965 Argentine expedition to the South Pole. The stamp shows a map of Argentina's claims on the Antarctic continent.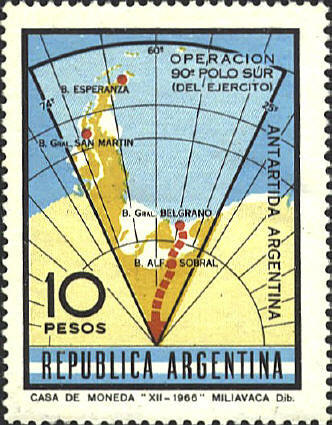 Radio Postal Stations in the Antarctic
The stamp was issued as part of a set of three to publicize Argentinian research projects in the Antarctic. A second stamp in the set shows the route of a double transpolar trans-antarctic flight.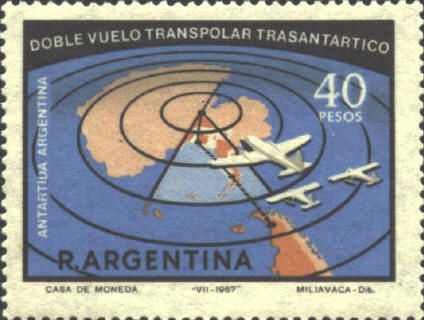 Brazil's First Expedition ~ 1982-1983
Brazil made its first Antarctic expedition in 1982-83. The stamp shows an Adeliea Penguin, a small polar projection of the Antarctic continent, and the support ship, Barão de Teffe. The Barão was built in 1957 and was used by the French Antarctic Territories for 18 years under the name Thala Dan. It was sold to Brazil in 1982.
Brazil owns a permanent base on King George Island, off the long finger south of South America, and has been granted a zone of interest between 28°W and 58°W, which overlaps territory claimed by Argentina, Great Britain, and Chile.