Souvenir sheets issued by Vanuatu and Norfolk Island for the Pacific Explorer 2005 World Stamp Expo in Sidney, Australia, commemorate the early peoples and explorations in the Pacific.
The Lapita people are first documented in the Bismarck Archipelago or Papua New Guinea around 1350 B.C. For the next 700 years they explored the Pacific as far as Fiji around 650 B.C. They were displaced from Fiji by the Melanesians and went on to Western Samoa and Tonga. Today their descendents are known as the Polynesians.
The sheet from Vanuatu shows a map of their explorations.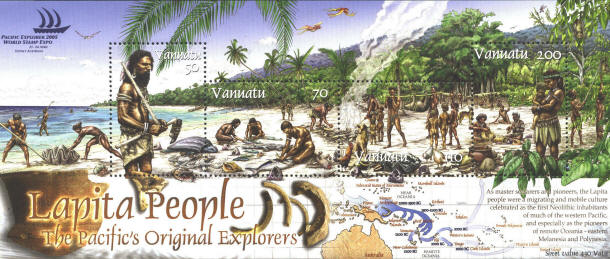 The sheet from the Norfolk Islands is based on the left-hand hemisphere of Vera Totius Expeditionis Nauticæ, a double hemisphere map published by Jodocus Hondius in 1595. The continents of North and South America and Europe-Asia-Africa are divided between the two hemispheres. The continent of Australia is misunderstood. The first English circumnavigation of the globe is marked on the map. For a larger image of the whole map on postal paper click here.