Moreila ~ 1767
In 1987 Mexico issued this stamp in recognition of the 13th International Conference of Cartography. The subject is officially described as "A photographic composition of an antique plan provided by the General Archives of the Nation," without any more specific description.
The map is a sixteenth century manuscript map of Moreila, one of the oldest colonial towns in Mexico.
In 1991 Mexico issued a stamp to celebrate the 450 anniversary of the founding of Moreila.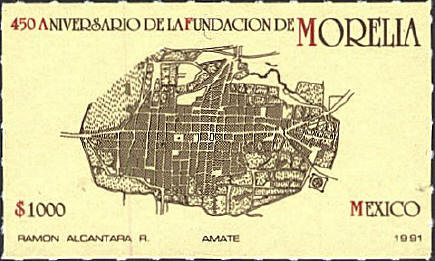 Mexico 1915
The map shows railroads within Mexico and shipping routes to the rest of the world. The Caribbean Sea is identified as "Mar Antillas." The names of many of the states are abbreviated, and the state of Colima is not named at all, The boundaries of the northern part of the state of Quintana Roo are cut off by the territory of Yucatan, and the boundaries of Quintana Roo encroach on the territory of British Honduras, later Belize. (See also in the Errors section.)