Guatemala was conquered by Pedro de Alvarado in 1523-24. She gained her independence from Spain in 1821. For 16 years she was incorporated into the Mexican empire until she became an independent republic in 1839.
In 1936 Guatemala issued a stamp with a map. Belize appears on the upper right border of Guatemala.

In 1939 Guatemala issued a similar stamp in which the map included the territory of Belize. A British force was stationed on the territory to guarantee Belize's security, and after independence was achieved in 1981 Guatemala continued to assert her claim until 1991 when she recognized the territory's independence.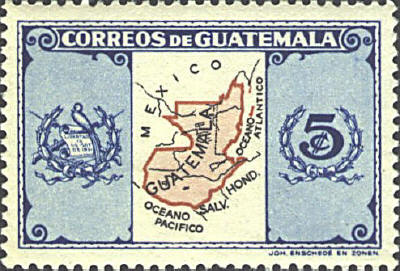 In 1862 Belize became a British Colony with the name British Honduras. In 1871 she became a crown colony. In 1973 she changed her name to Belize, and in 1981 she achieved independence.
To the left of the map on both stamps are the arms of Guatemala: two rifles and two swords crossed behind a parchment with the (abbreviated) words: "Libertad 15 de Setiembre de 1821," and a Quezal perched on it.