Louis Bleriot (1872-1936) was the first person to fly solo across the 21 mile English Channel. He flew from Las Barraques near Calais and landed in Northfall Meadows near Dover on July 25, 1909. The plane was of his own design, a model XI, and with it he won the £1000 prize offered by the London Daily Mail. A Bleroit XI-2 was flown by Tryggve Gran 5 years later to cross the North Sea (see below).
The boundary between France and Belgium is indicated by "x.s." The cities of Dover and Calais are identified, and the positions of Dunkirk, Dieppe, LeHavre, Rouen, Abbeville and Amiens are marked by small circles.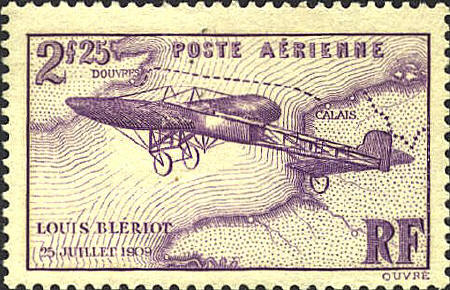 On July 30, 1914 Trygve Gran, a Norwegian, made the first flight over the North Sea, crossing from Cruden Bay in Scotland to Jæren in a Bleriot XI-2 named "Ca Flotte" (later renamed "Nordsjøen" (North Sea)). The flight took 4 hours and 10 minutes. In 1944 Norway issued a stamp showing Gran's route from Scotland to Norway to commemorate the 30th anniversary of that flight.