Netherlands Antilles B39-B42
In 1959 the Netherlands Antilles issued a set of four semi-postal stamps, all with the same design, to support the Red Cross. Irvine and Seshold, Errors in Postage Stamp Design, p. 80, comment: "The islands of the Netherlands Antilles on a 1958 semipostal issue are to scale, but the distances between them should be about seven times greater."
By superimposting the image of a map of the Caribbean over the stamp, it is clear that the shape of Bonnaire is a bit off, but the distance between the Bonaire and Curaçao does not need to be "about seven times greater." However, the distance between Aruba and Bonaire should be increased substantially.
<![if !vml]>
<![endif]><![if !vml]>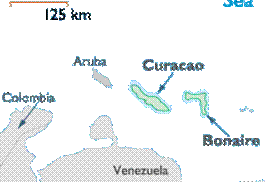 <![endif]>