Australia 111-112, C3
In 1931 Australia issued two postage stamps, and an airmail stamp, all with the same basic design in observance of the trans-oceanic flights of Sir Charles Edward Kingsford-Smith (1897-1935) in the period from 1928 to 1930. The design shows two hemispheres with Kingsford-Smith's plane, "Southern Cross." The error is that the propeller of the plane is stationary.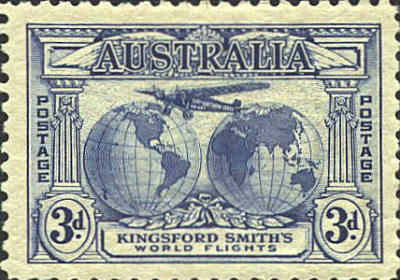 Australia 776-777
In 1981 Australia issued two stamp-on-stamps featuring the airmail version of the stamp, which have their own errors. In the 1981 stamps the wording from the postage stamp, "Kingsford Smith's World Flights" has replaced the "Airmail Service" in the bottom panel of the original stamp.